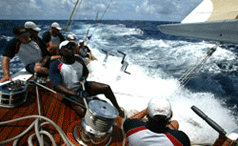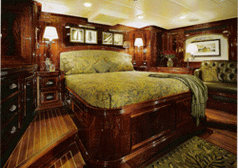 THE NEW RANGER
~ SAILING
The new ranger was born from the Owner's enthusiasm for these great yachts. There are new yachts, and older, but none so sleek, fast and with beautiful lines and handling.
Having watched the J Yachts ENDEAVOUR and VELSHEDA racing in Antigua Classic Regatta, the Owner gained the opportunity to charter ENDEAVOUR the following year. This led to stunningly close racing between Endeavour and Velsheda , similar to what it must have been like back in the 1930's.
Following the sale of ENDEAVOUR from Elizabeth Meyer to Dennis Kozlowski, and with increasing interest in the Class, there was the real possibility to re-create a J Fleet. The Owner joined J Class Owners, Captains and Project Managers in a meeting where the J Class Association was born. With a new set of Class Rules allowing for the Replica Rebuild of each of the great J Class yachts lost to history, the Owner declared his interest to build a replica of RANGER, to the original lines plans.
Following many months of design and development of the plans, construction started at Danish Yacht Boatyard in early 2002.
View the history and other great yachts on www.jclassyachts.com
The modern J Class Yacht is significantly different to 1930 versions. Nowadays, it has to conform to stringent safety regulations - bulkheads, escape hatches etc. It has to offer the ability to cross oceans with accommodation and all support services associated with a Superyacht. All this is not easily packed into a long thin racing hull.
Ranger was completed in late December 2003 and departed Denmark in early January 2004. After a successful transatlantic crossing Ranger cruised the Caribbean before commencing her racing program in April. Early April saw Ranger competing in the St BarthÕs Bucket race for yachts over 100ft., which this year had an excellent turnout of 22 yachts. Despite light winds on both days Ranger performed very well in the event, allowing the crew and guests to get some valuable practice before the more official and demanding Antigua Classic Regatta.
Antigua Classics this year had a high attendance of classic yachts including four in the Spirit of Tradition Class A. Therefore, Ranger was racing against Velsheda, Windrose and Cambria. For this event we welcomed back some old friends from past regattas along with some new hands to help optimise the yachts performance. The event was a great success and many commented that large yacht racing of this quality had not been seen in years. Ranger came away with a second in class and some outstanding memories.